February 3, 2018
Snowball 2018 Honoree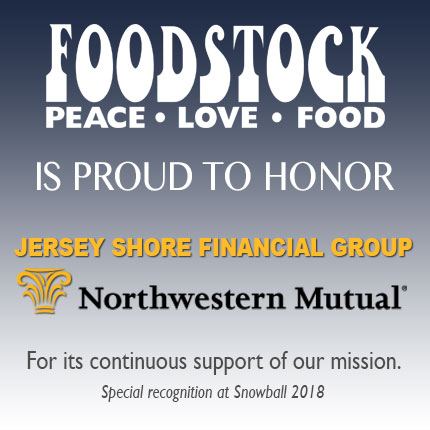 Foodstock is very excited to begin a new feature this year! The committee has decided to begin honoring standout organizations, sponsors or individuals who have loyally supported our mission through the years.
Our first honoree is… Jersey Shore Financial Group – the Wall Township office of Northwestern Mutual under the leadership of Rick McGarry.
As our first honoree, Jersey Shore Financial Group is well deserving. Here are just a list of the contributions they have made:
T-Shirt Sponsor every year since our inception.
Food contributions every year, growing to over 1,500 lbs last year.
To encourage food contribution, Rick McGarry has personally offered a happy hour for his team if they meet their goal – which they have done every year.
Rick has attended most of the golf outings and has been a hole sponsor every year.
The office has had strong attendance at Foodstock and Snowball.
The office coordinated a visit to Lunch Break last December as a volunteer day. They had over 20 people from the office visit the Red Bank location to stock the pantry, serve food, assist in the self service pantry and move a bunch of the food we collected at Foodstock.
Jersey Shore Financial Group will be honored with special recognition at Snowball 2018, on February 23rd.
Please join us in congratulating Rick McGarry and the Jersey Shore Financial Group as our first Snowball Honoree!